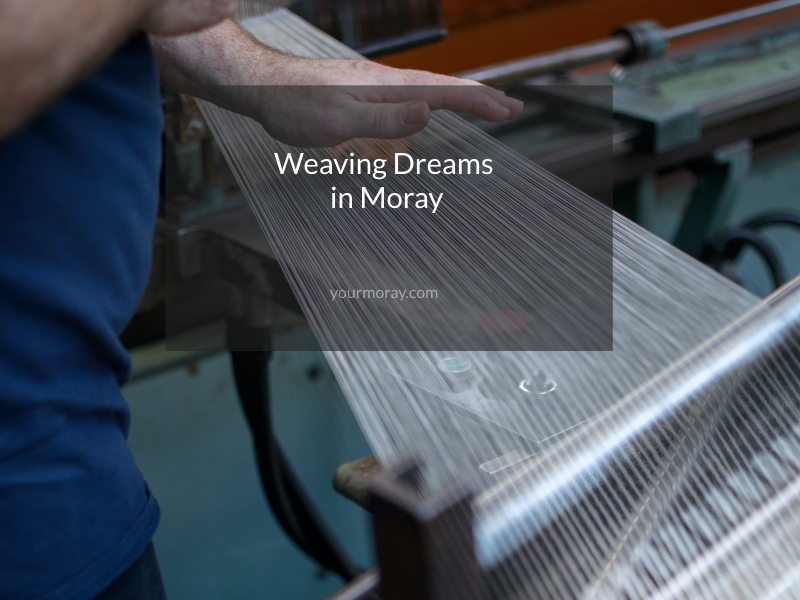 Our focus is on one of Moray's top businesses this week.
It's also one of Moray's oldest businesses.
Our article on Johnstons of Elgin can be found by scrolling to the bottom here. It's based on a Business Gateway Innovations podcast interview with (as has later proved to be the case) outgoing Chief Executive, Simon Cotton.
Firstly, as we warm-up for Winter and Christmas, here are some other Moray-related matters from the internet…
Blizzard of Oz
In a week where BEAR Scotland has indicated it is gearing up for the gritting of Scotland's roads over the winter, it's been interesting to see Scotland name-checked in the U.S. for starting a trend of naming "snowplows" – Kids in Vermont got to name some of the state's snowplows, and the results are delightful (Northern Scot; Boston Globe).
Moray Speyside: A Travel Guide
"Moray Speyside covers everything from picturesque fishing villages to a secret seminary in the remote hills of The Cabrach." A new book about Moray by Iona Grant – who was born in Burghead – releases on 30 November 2021 (Forres Gazette).
From the Hip
Each Benromach x HÔRD flask uses old leather that would otherwise head to landfill, with all cladding, dyeing and detail added by hand. A Moray distillery has teamed up with fellow craftsmen from Yorkshire to produce a limited-edition – and apparently eco-friendly – hip flask (Forres Gazette).
More than a Foodbank
One food parcel will typically feed a household for three days. Breaking the cycle of relying on handouts is a key priority of Elgin-based charity, Moray Food Plus, as well as getting rid of the stigma of accepting help from a food bank (Press & Journal). Donate to The Big Christmas Food Appeal 2021.
---
Weaving Dreams in Moray
The Business Gateway Connections Podcast for 27 October 2021 featured an interview with Simon Cotton, Chief Executive of Johnstons of Elgin.
Family-owned businesses are a crucial part of the Moray economy and the wide-ranging discussion with Simon covered topics as diverse as the history of the business, its future plans, operating the business in an environmentally-friendly fashion, the benefits of the Royal Warrant to Johnstons and Simon's proudest moment with the company.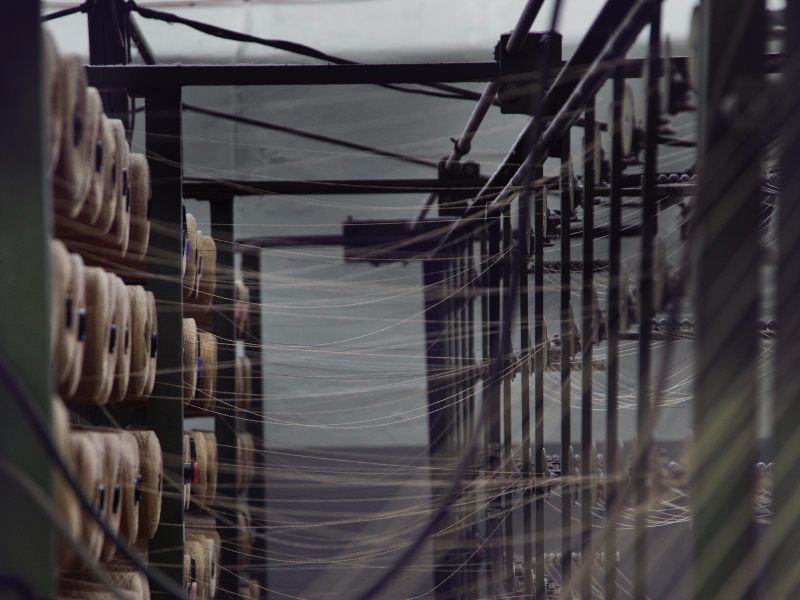 Johnstons of Elgin was established in 1797.
It is one of the last remaining vertical mills in the UK still processing raw cashmere and woollen fibres right through to the finished product.
In the centuries since its formation, the company has been owned by just two families – the Johnstons and Harrisons. Current chairman, Jenny Urquhart, is the great granddaughter of former Johnstons' owner, Freddie Harrison.
Johnstons export to 65 countries.
It has employees at its mills in Elgin and in Hawick.
In 2013, it was granted the Royal Warrant by the Prince of Wales for the manufacture and supply of estate tweed cloth to the Royal Household.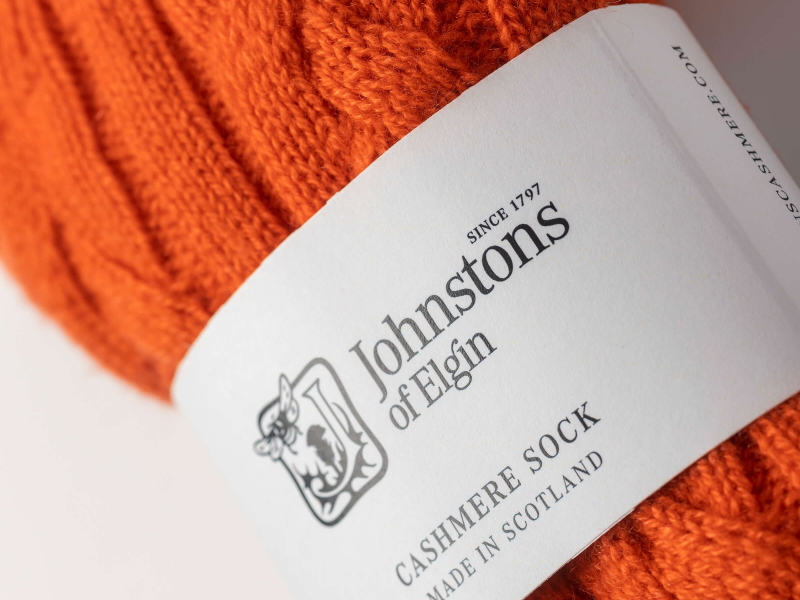 Johnstons is still in its original location in Elgin, on the banks of the River Lossie.
The meandering river forms 3 sides of the business's site.
In 1851, the company was experimenting with wild fibres from around the world. Among those was "discovery" of cashmere for weaving and the development of the mechanical processing.
Simon Cotton says that, if you love working in the textiles industry – as he does – then being chief executive of Johnstons is akin to getting the keys to Willy Wonka's Chocolate Factory.
Johnstons is in the top 3 of the oldest family businesses in Scotland.
As Simon points out: "Everyone thinks that 200-year-old companies are a bit "dusty", but the reality is that, to survive two hundred years, you have to be able to change."
After all this time, Johnstons are still innovating. There is constant external pressure to innovate but Johnstons aim to produce 'timeless pieces' rather than short-lived single-season successes. Simon considers that the Johnstons brand is growing in self-confidence and finding it easier to express its true personality – an authentic expression of the craftsmanship that goes into the products.
Johnstons are working much more closely with some of the biggest brands in the world. They are developing their China-based business. The Japanese market has been extremely strong as well.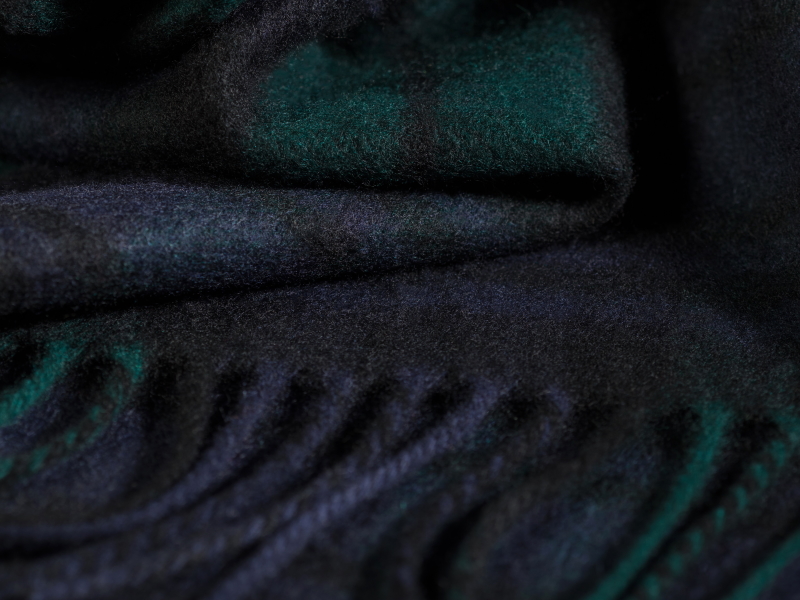 Johnstons does not regard itself as a "large" employer.
One of their values is "community".
They have a "small business" ethos. They try to avoid bureaucracy. They are small enough that it can be possible for employees to make decisions in their own areas of work.
They are large enough to have clout, for example, when discussing sustainability issues with chemical suppliers. But they are small enough to innovate easily.
At the beginning of the pandemic Lockdown, Johnstons had all except about 20 people on furlough.
The market has been turbulent. Retailers whose shops were closed were – understandably – not wanting to buy new product. On the other hand, some markets became buoyant. Others remained very quiet.
It was, and continues to be, a huge confidence-booster that they can knit and weave such a wide range of products – socks to scarves to coats to knitwear – and do it all in-house.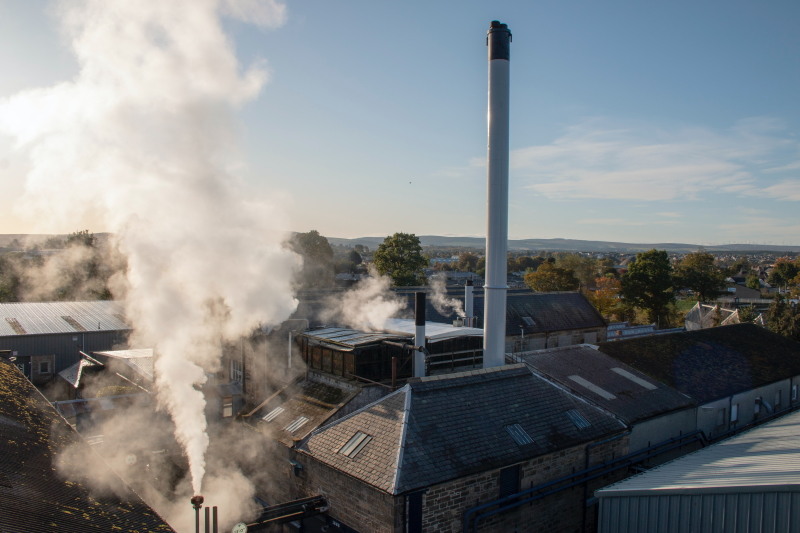 Johnstons are now going 'full on' to encompass all aspects of sustainability.
Johnstons were recently awarded the Queen's Award for Enterprise in the Sustainable Development category.
It's not just about reducing carbon emissions, though they have reduced those by 53%. It extends to looking at ways to take the use of hazardous chemicals out of the textiles industry.
Furthermore, it's about how you treat your staff. Johnstons is a Living Wage Employer. (Increasingly, this is an important issue, across Moray).
It's also about widening the net to examine how those suppliers they deal with from places as far away as Mongolia and Australia operate in producing the raw wool and cashmere. For example, the company is training children in Mongolia – the herders of the future – in sustainable grassland management. This aligns with Johnstons' value of 'community' – really, just taking a slightly broader view of what 'community' means in practice.
What does Simon Cotton know now that he wished he had known at the beginning of his career?
He says that it's remarkable how common the basic challenges are across all sorts of different businesses.
He wishes he had realised sooner that 'it's okay to be yourself. That you don't have to conform to a stereotype. You don't have to behave in a way that's different to how you would naturally behave. You can and should bring your open, honest self to everything you do at work.
You should not be afraid to display vulnerability. It should be okay to say when you're 'having a bad day'.
No two people will 'lead' in exactly the same way. According to Simon, "we're all leaders". When you were in the cot and demanding to be fed, you were already 'leading' – or at least influencing!
We all do it but everyone does it in a slightly different way. At work, you're applying these skills you've always had but just in a different context. It's not necessary to artificially 'be someone else' in any leadership role.
Simon Cotton says his proudest moment with Johnstons was when it became a Living Wage Employer.
To his mind, the public had always viewed textiles as a 'low wage' industry.
Yet it's a highly-skilled, luxury-goods industry. Scotland is one of the leading players in the world.
Johnstons have more than 100 employees who each have more than 20 years' service. They like the community atmosphere and take pride and pleasure in the work that they do.
Does having the Royal Warrant give Johnstons an advantage over their competitors?
Johnstons know they are making the best product they can possibly make, in all circumstances.
But, for the average consumer, it's not easy to differentiate why Johnstons' goods are more expensive than some other apparently similar products.
Consumer trust can be built up over time but consumers also need more 'instant' reasons to believe that that quality is present. Johnstons 'help themselves' in that process by telling their story, highlighting the craftsmanship and opening up the mill to visitors. They've had 200,000 visitors a year in Elgin. These visitors 'get it' when they see the set-up.
But, Simon agrees, you also need 'shortcuts' to trust and proof of quality such as the Royal Warrant. The 'certification' is a powerful tool. No label is more respected than the Royal Warrant: being suppliers to the Royal Family.
You can visit Johnstons of Elgin.
Find them – the Mill, Shop and Weavers' Restaurant at Newmill, Elgin.
All photos by Johnstons of Elgin via Unsplash
---
Join our Newsletter for a weekly Moray update.
Delivered straight to your inbox. (See the sign-up form below).