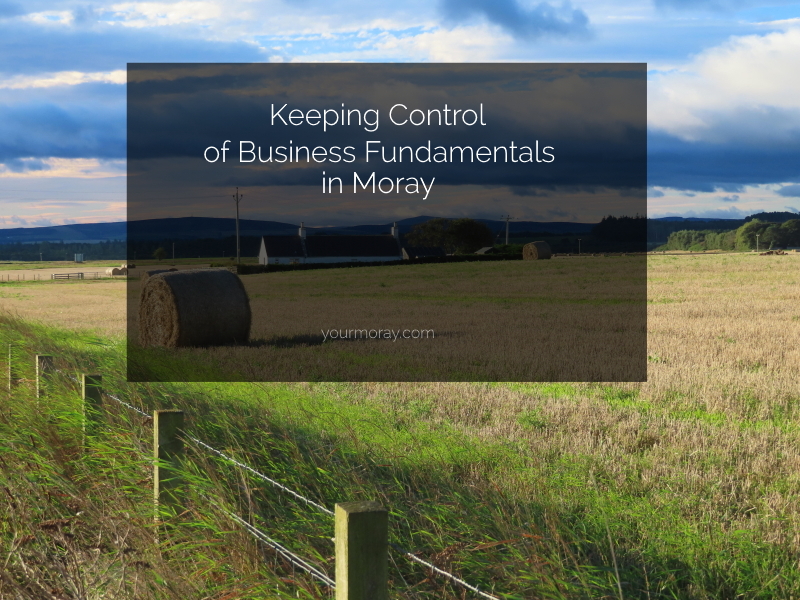 This week's issue contains a feature article on an important aspect of business control in the digital space.
Or, more exactly, how to avoid relinquishing control of crucial elements of your business's ability to survive, thrive and grow.
These lessons apply wherever in the world your business is located but, of course, our focus is on Moray – and Moray businesses, the people who run them and who are employed in them.
Scroll to the bottom to find out all about the hazards of digital sharecropping. In the meantime…
Other Moray-related matters which have caught our eye this week…
Who's that gull?
The North-East Scotland gull menace issue was raised in the Scottish Parliament at Holyrood (Press & Journal).
Still illicit
As a result of recent excavations, archaeologists have discovered the floor of an illegal whisky distillery in Glenlivet which dates back to the 1800s (The Herald).
Bloomin' Forres
The green-fingered volunteers of Forres in Bloom have paid tribute to the Rotary Club of Forres as it celebrates its 70th birthday. (Forres Gazette).
Give the Gift of Moray
Moray Council is urging businesses to sign up for a new gift card that is exclusive to the region The Moray Gift Card aims to boost the local economy following the pandemic (Press & Journal).
The Dangers of Digital Sharecropping in Moray
When Facebook suffered an unexpected outage on 04 October 2021, it highlighted to many businesses how integral the platform – and its associated apps – was to their day-to-day operations.
Facebook, in their update following the outage, recognised the impact outages like these have on the millions of businesses that use their services to find and reach customers, from Moray to Mongolia.
Their communication began: "To all the people and businesses around the world who depend on us…"
"Depend" is a strong word.
Making your business dependent on something you do not control is a bad idea.
It could be on the physical level, such as renting premises and finding that, when the lease comes up for renewal, your landlord wants to double or triple your rent, which you cannot afford and that's the end of your business.
Or, on a digital level, it could be relying too much on platforms outwith your control, such as Facebook or YouTube. If the rules change – and they usually do without warning – you can suddenly have a business headache on top of all the other usual hassles that come with the territory. And this problem cannot be fixed by you using your own powers alone.
Anybody can create content on Facebook.
But the material you create then belongs to Facebook.
As we produce more and more content for Facebook for free, the more the value of Facebook increases. We work, they profit.
In the online sphere, this sort of practice has come to be known as digital sharecropping.
Sharecropping is a method of farming where tenant farmers cultivate their land and give a part of each crop as their rent. The landlord owning the ground allows each individual farmer to work their land and creams off most of the profits generated from the crops produced.
The landowner has ultimate control. If they decide to kick you off the land, your livelihood is gone. Should they put their charges up, you must somehow work harder or make less income.
It's rumoured that some Facebook accounts accidentally disappeared as a result of the outage in October 2021 ("kicked off"). And we're all familiar with the gradual, ever-increasing difficulty of achieving a realistic level of organic reach with Facebook posts for businesses ("make less income").
The problem with relying on Google or Facebook to generate leads for your business is that you are sharecropping.
But why should your landlord continue to support your business as before (or at all)?
All the signs are that they don't really know you or care about your business.
How do you escape from the digital sharecropping trap?
If we take the need for your to have a quality product or service as a 'given' – because your business is not going to thrive or grow without demand for it in the marketplace – here's what you need.
In the first place, you build your own website and host it in a way that you control. This becomes your digital headquarters and the place to which you aim to direct all potential leads and customers. Don't send them to your Facebook page.
Secondly, you want to set up, maintain and grow an email list. It's a means of communicating with new customers and retaining existing ones. This is the kind of thing you set up through email marketing software provided by companies such as MailChimp, ConvertKit or AWeber. Many options are available, some of them free.
It is possible to make this workable just with a website or just with an email list.
A website is probably the best investment to start with. It allows you to explain your business in a way which is easy to find online and – provided it's set up well enough – makes it easy to add content regularly (which increases its visibility and findability via the various search engines).