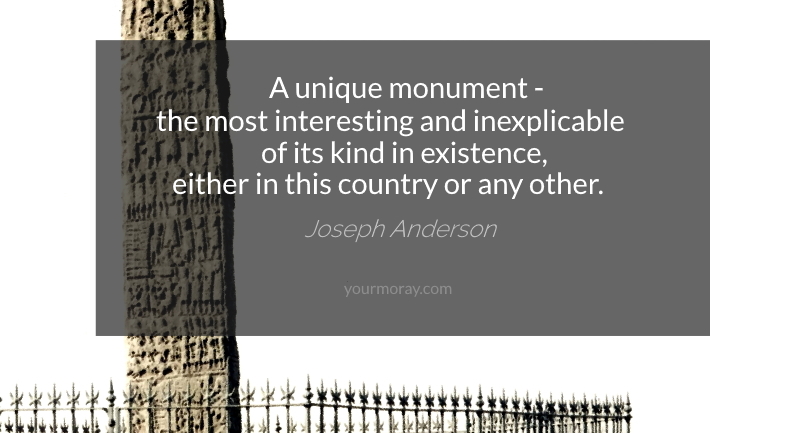 Moray has many links to the Picts.
The Picts were a group of different peoples who lived in what is now northern and eastern Scotland, up to the early Middle Ages.
Though their Latin name, Picti, appears in written records from the 3rd to the 10th centuries, we know surprisingly little about the details of their way of life and culture.
We have had to infer a lot about them from various engraved stones which have survive these last thousand or more years.
Our feature story about Moray this week centres on a massive, decorated stone which dates from Pictish times and may be their work (or it may not).
What has come to be known as "Sueno's Stone" has attracted and continues to attract speculation about its origins and meaning.
---
Firstly, let's see what has been cropping up on the internet about Moray over the last wee while.
Kimberley Inn Review
The Sunday Post was in Findhorn to review the food and hospitality on offer at the Kimberley Inn which "dates back to 1777 and oozes character, built with natural stone, and featuring traditional square-paned windows overlooking the bay and it has extensive wood panelling inside, giving it an olde-worlde marine vibe." (The Sunday Post)
Moray's Most Popular Books
A local authority-published list of the area's most popular books for 2021, shows that Moray library users were dedicated readers of books written by Scottish authors. (The Northern Scot)
Macbeth Unhinged
Shakespeare scholars will tell you that Forres features in the original play. The title character is en route there when he first encounters the three witches. However, neither Moray nor Scotland feature in a new film version of Macbeth, starring Denzil Washington and Frances McDormand (Forres Gazette)
---
The swirl of theories surrounding Sueno's Stone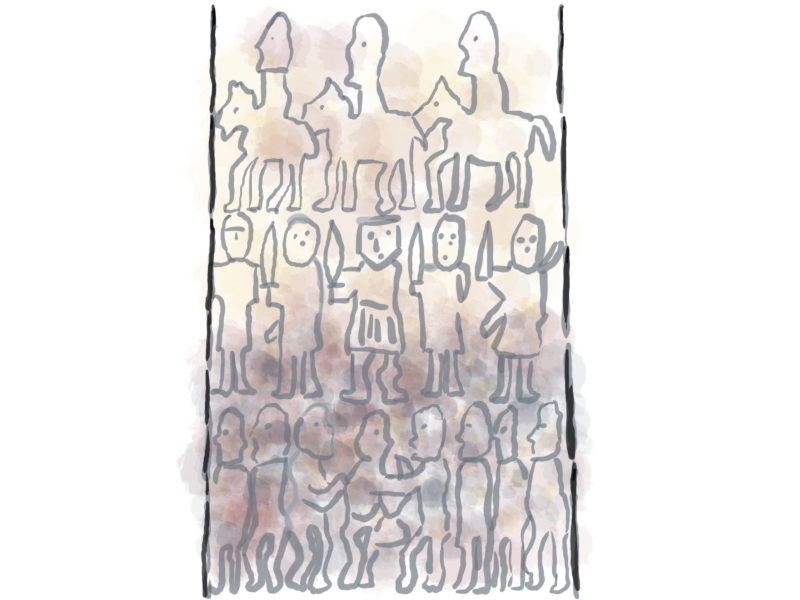 It is visible from the A96, as it bypasses Forres, but blink and you will miss it.
Instead, from the eastmost roundabout on the A96 giving access to the town, make your way along Victoria Road (B9011) and turn right into Findhorn Road. This is a dead end and has you almost completely doubling-back on your westerly direction along Victoria Road.
There is no official car park for Sueno's Stone but the on-street parking should be fine. And entry to this Historic Scotland visitor attraction is free.
Weighing over 7 tons and standing 6.5m (21 feet) in height, it is an imposing, decorated Pictish stone.
Carved in the 9th or 10th Century from local sandstone, it is an artistic masterpiece and seems almost impossibly enormous for its age and relatively slender design.
It is Scotland's tallest surviving cross-slab and one of the most richly-carved examples of Pictish art in the country.
What the artwork commemorates is still the subject of discussion and unlikely ever to be definitively settled.
It seems to tell a tale of warlike slaughter.
On the front side, there is a ring-head Christian cross. It takes up most of that face of the stone. Its shaft, base and background are infilled with interlaced "celtic knotwork" decoration.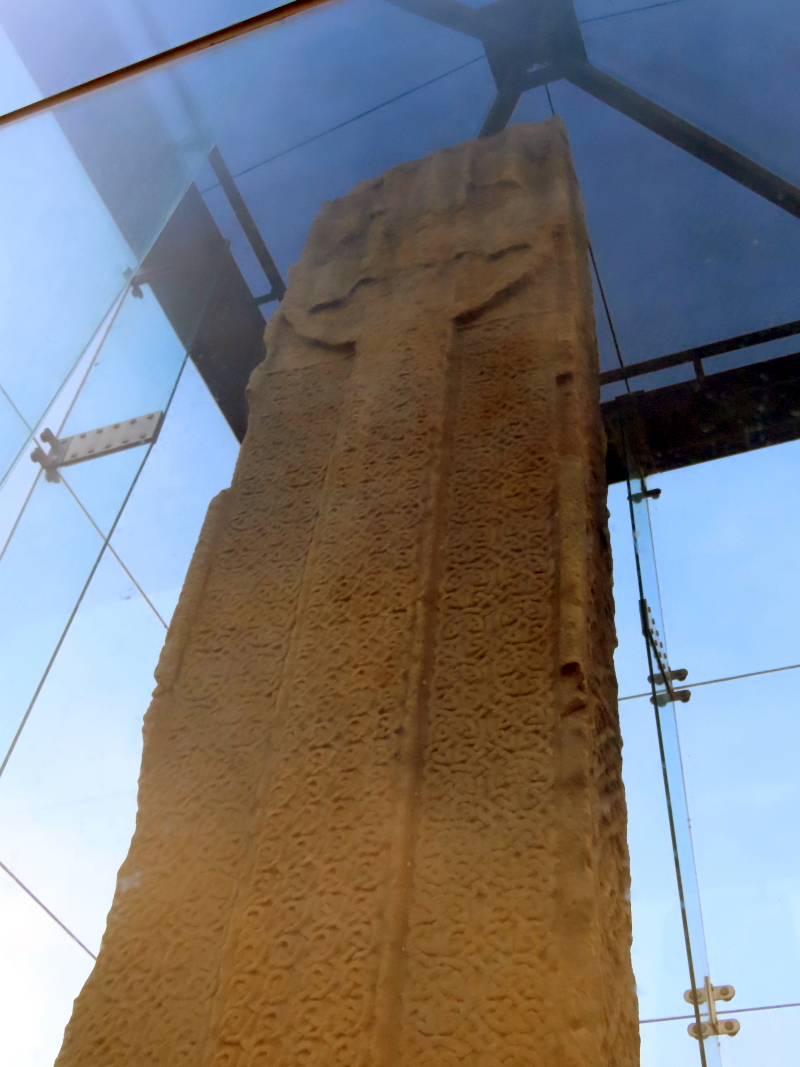 But it's the abundance of motifs on the back which is most striking.
Across 4 separate panels, densely-packed, almost geometrically abstract-looking groups of figures ride into battle. They strike each other on the head with swords. Some appear to be beheaded corpses.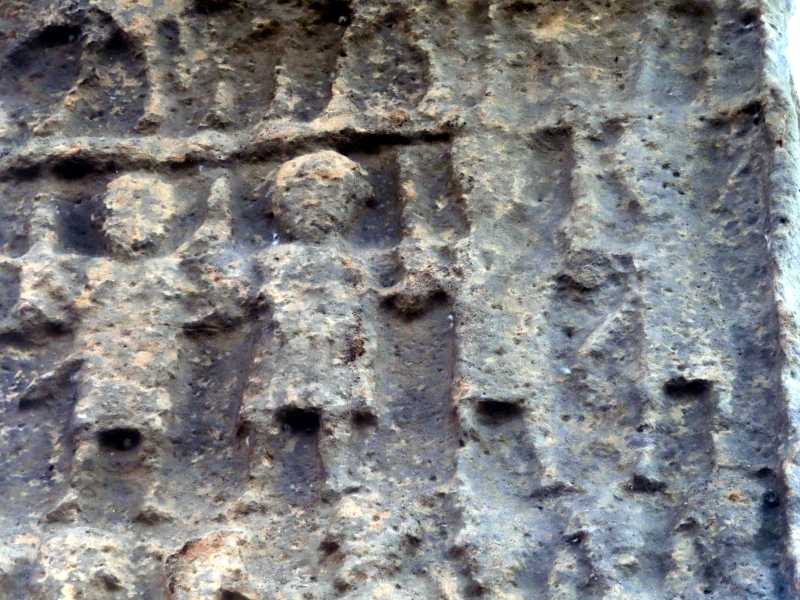 We have a number of possible options for the "true story" of Sueno's Stone.
In the 10th Century, for example, when Scotland consisted of several different Kingdoms, Dubh (anglicised as Duff but meaning black or dark in modern Gaelic) was King of Alba (King of the Scots) from 962 to 967.
To place him better on a timeline, it may help to know that King Duncan the First's dates were 1034 -1040 and Macbeth's 1040 – 1057.
Dubh was reportedly murdered at Forres in about 967 as the result of an internal dispute among the Scots. Sueno's Stone may be a monument to Dubh, erected by his brother.
Another possible version is linked to the man apparently known as "Sueno" – King Sweyn Forkbeard (King of Denmark from 986 to 1014) – and a battle between his Viking forces and the Scots. Because Sueno's Stone displays mainly battle scenes, this would fit with the theory that the Picts must have had conflicts with the Vikings.
A further possibility – if the battle scene represented is one we know took place – is that it could depict a victory of Kenneth MacAlpin (who ruled from 843 to 859) or of his successor, Donald I (860-863). Their reigns strengthened the House of Alpin's hold on this part of Scotland. In that case, the inauguration scene could refer to the enthronement of either of these important kings.
There is evidence to suggest that the stone fell or was toppled at some point around the 17th Century.
It was uncovered again within a century or so – in 1726 – and re-erected nearby. It was at this time that the name "Sueno's Stone" was invented.
In the early 1990s, the stone was encased in reinforced glass to minimise further erosion.