'Brig' is the Scots word for "bridge".
So, the Brig o' Doon – made famous by Robert Burns – is the "Bridge over the River Doon".
Craigellachie Brig is a cast-iron arch bridge over the River Spey.
The village of Craigellachie is near Aberlour and surrounded by whisky distillleries.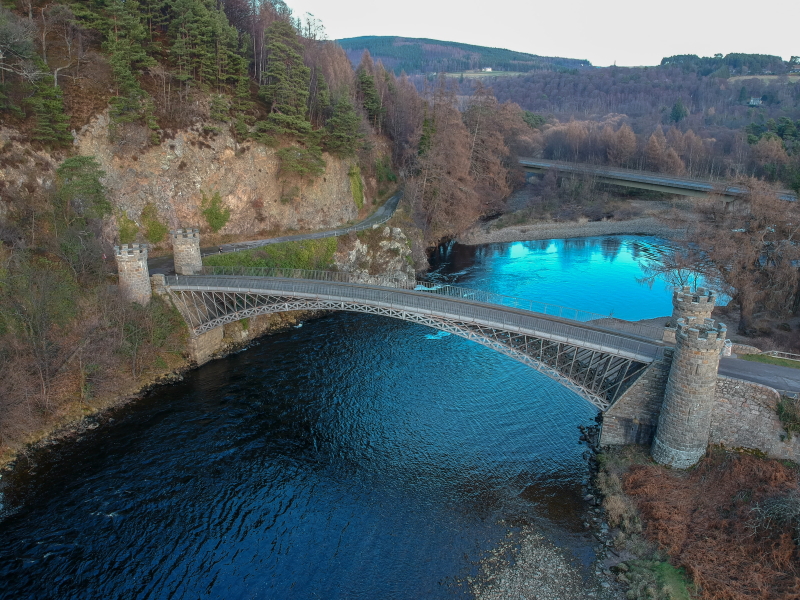 Though it was state-of-the-art for its time, it is only one lane wide.
The bridge was designed by the famous civil engineer, Thomas Telford. The construction was from 1812 to 1814.
It has a single span of about 150 feet and at its highest is about 33 feet above the tumbling waters below.
At each end of the structure there are two 50-foot high mock-medieval masonry towers, complete with arrow slits and miniature crenellated battlements.
Whilst current use of the bridge is restricted to pedestrians and cyclists, it was in regular use by vehicles until 1963. The single lane was a drawback, as was the fact that the road to the north of the bridge takes a sharp right hand turn to avoid a rockface, making it unsuitable for modern vehicles.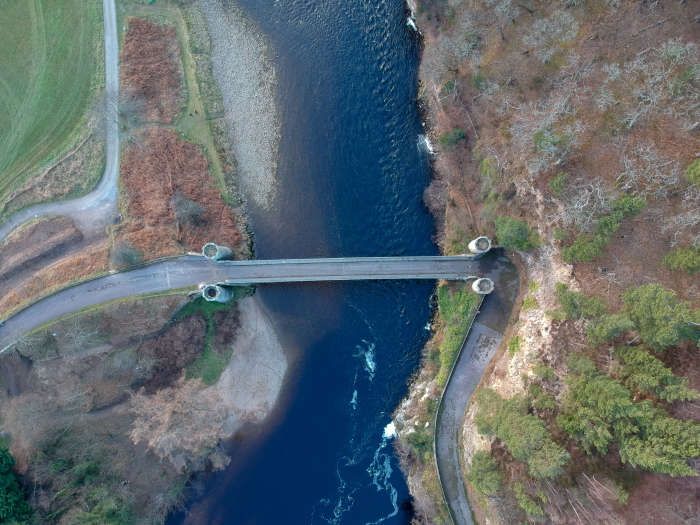 It was closed to vehicles in 1972.
At that time, a separate concrete bridge – with a carriageway for vehicles in each direction – was opened slightly downstream.
Telford's bridge remains open to the public and is a fantastic structure in a memorable setting, with great views up and down the river and over towards Ben Rinnes.
The bridge inspired fiddle composer, William Marshall.
Marshall (1748 – 1833) was born in nearby Fochabers, Moray.
Robert Burns called him "the first composer of Strathspeys of the age". And perhaps his most famous composition is the Strathspey "Craigellachie Brig", created in honour of this structure.
In his book "The Fiddle Music of Scotland" (1979) James Hunter notes of this melody: "Marshall composed this magnificent strathspey, perhaps the finest in the whole repertoire, to celebrate the opening of the bridge over the River Spey at Craigellachie."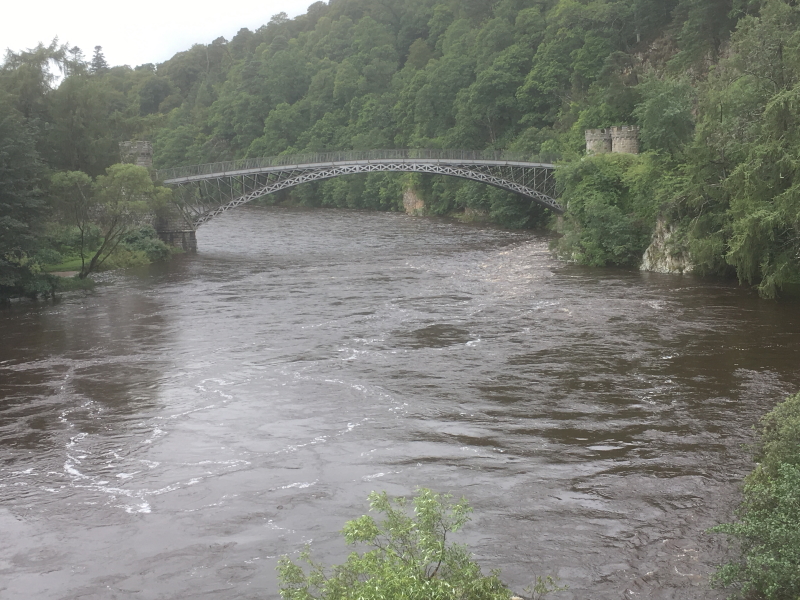 Image credits both aerial photos by Gilbert Pellegrom on Unsplash