In 2016, a diverse trio of statues was unveiled in central Elgin, Moray.
On the grassy area to the east of the A96 between the Tesco roundabout and the roundabout at the Royal Mail Sorting Office stands the Wolf of Badenoch. At a height of about 6½ feet, David Annand's creation commemorates the Earl of Buchan, infamous for setting fire to Elgin Cathedral in 1390.
The Drummer Boy (with his Dog) is at the east end of the Plain Stones close to the Market Cross.
The most controversial statue is the Dandy Lion.
To describe it as a 7-foot "mermaid lion" wearing colourful clothes, does not really prepare you for the assault to the senses it provides.
The name of the statue plays on the word "Dandelion", referring to the flower people would wear to signify that they were looking for agricultural work around the town of Elgin in the early nineteenth century.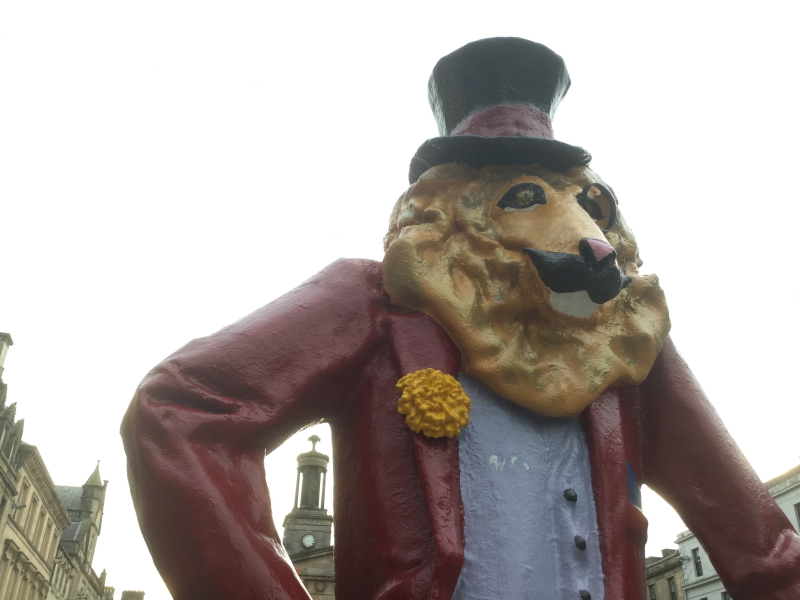 Designer, Vic Quickly, explained that each aspect of its eccentric and colourful appearance is intended to represent a specific part of the history of the town of Elgin.
The statue's lower half has the tail of a fish, to commemorate the fisher folk who sold their wares on the Plainstones around that time. Its top half has a top hat on its head, a monocle in its left eye and holds a cane in its left hand. It is dressed in tweeds and cashmere – apparently from the Johnstons of Elgin Woollen Mill – and it has a moustache.
The Dandy Lion is at the west end of the Plainstones close to North Street and the Poundland scaffolding mountain.