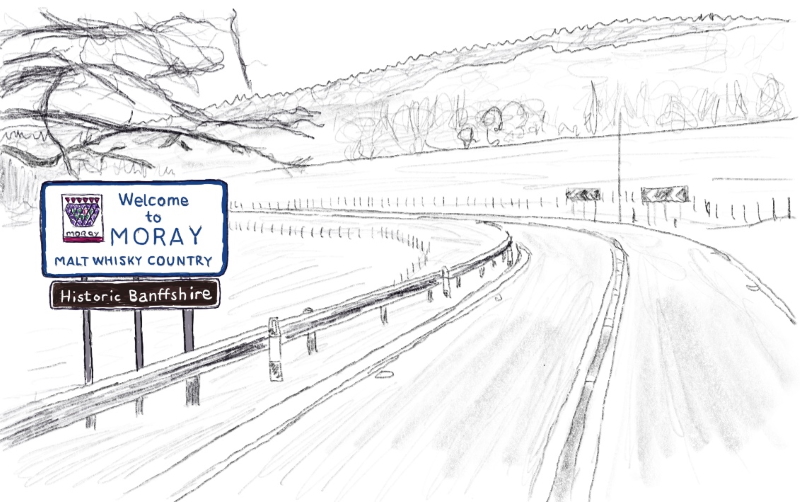 Seeing communication through 21st Century eyes, we tend to imagine things have always been this way.
But that's not right.
In fact, our trajectory is more towards how things were before the advent of mass communication.
In other words, towards the way things have been for the vast majority of human history, with the exception of a few decades.
The move is towards a more local way of seeing and doing things.
Until fairly recently, we lived together in settlements which were pretty much cut off from the next town or village. And even more so from those further afield in the country or across the world.
The people in these places – say, Lossiemouth, Elgin, Aberlour, Forres, Dufftown – transacted business with one another face-to-face, based on their preferences and desires.
The way they thought about things, what they believed and how they behaved was isolated from the folk who lived in other social realities – fundamental differences based on geographic divides.
Invention of the printing press helped information spread between geographic areas. Radio and television enabled mass sharing of culture.
Most of the world's living population is a product of the radio and television years – and beyond – when it comes to both business and media. It's hardly surprising, then, that we are so inclined to think in national and international terms.
One school of thought holds that we would be better adjusting our focus to the local ecosystem instead.
This approach – known as "localism" – is gaining traction across the political spectrum.
The localist view emphasises local production and consumption of goods. It focuses on local governmental control. It champions local identity – local history and culture.
It stands in contrast to centralised government, for example.
It depends on seeing the atomic unit of society as the community. Something small enough for their to be trust among members. Something that's not too large to result in mass anonymity.
There are signs of an unravelling or splintering of society across the UK and the localism argument encourages people to lean into it – to embrace the local above the national.
What are the arguments in favour of localism?
In an article directed at the US experience in this context, Sean Blanda identifies two main causes (though there are many) of the mood to embrace localism:
the lack of a shared "now"; and
the lack of a shared "here".
The 'now' element refers to the incessant overwhelm of real-time news from numerous media sources which makes us feel that everything and everyone in the world is awful.
The 'here' part refers to how geography used to insulate us from this fate. We didn't know what was going on in the next country let alone on the other side of the world. Or, at least, certainly we did not apprehend it immediately.
Our trust in others has diminished markedly due the media-highlighted unacceptable – even evil – behaviour of other humans. Yet most of these folk are not in our vicinity. We should not be allowing them to impact our psychological well-being as we do.
We've tended to concentrate on the global aspects of digital media, not the local possibilities.
For sure, the world-wide web has allowed us to reach like-minded persons across all continents. It has enabled groupings of people based on values and interests instead of location.
But the fact remains that we can employ digital media skills to enhance – 'in real life' – our chosen, local communities.
It's possible to have a platform that reaches many folk in the local community. That has significant potential for helping local businesses across the board get the word out about their features and benefits.
Ultimately, physical location is 'where it's at'. And for us, that's Moray, partly-historic-Banffshire, Grampian, Scotland, UK, Europe, World.